When mobile and social meet
Danny Bradbury
theguardian.com, 
Location-based advertising and mobile games are bringing a whole new layer to social media marketing. Danny Bradbury explores the opportunities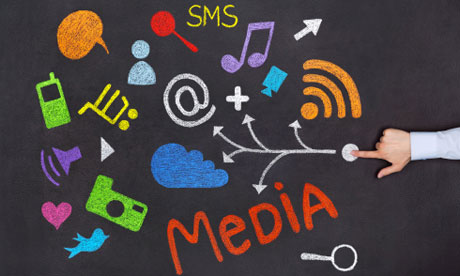 An advantage of mobile social networks is that the apps people use often provide far more information about them than you might find on a social network. Photograph: Petar Chernaev/Getty Images
Who knew 15 years ago that we'd be carrying our social lives around in our pockets? Marketing professionals interested in social networking can use mobile platforms to drive innovative marketing campaigns.
We're accessing social networks more via mobile networks than ever before. The number of people who accessed Facebook each day on mobile devices exceeded non-mobile ones for the first time in Q4 2012. Twitter says that 60% of its 200 million active users access Twitter via a mobile device at least once each month. Google, too, says that mobile users make up the lion's share of people accessing its Google Plus social network.
Smart marketers will make use of the unique characteristics of mobile devices, which are used differently to conventional computers. Iain Matthews, head of planning at social media marketing agency Jam, says that people tend to dip into social media on smartphones for short periods of time.
"People use mobile to take advantage of the downtime that they have between things," he says. "They're looking for distractions, whether they're standing on a train platform or waiting between meetings. Smartphones have enabled that."
Jam targeted mobile Twitter users in UK rail stations – a great location to find those with five minutes to spare. It asked people what kinds of shows they wanted to watch on Sky, via digital billboards. People tweeting using the hashtag #whatsonsky (eg "make me smile #whatsonsky"), Jam would reply on Sky's behalf suggesting shows. These replies would be displayed on the billboards, thrilling the audience.
Those travellers are just as likely to be using their mobiles when they finally sit down in front of the TV, says Matthews, who identifies second-screen TV viewing as a mobile usage model. "People sit there in in front of the TV with laptops and smartphones, semi-engaged," he says. Zeebox, a "TV sidekick" app for iPads, iPhones and Android devices, listens to what you're watching and throws up relevant content on your mobile device. It allows users to Tweet about what they're seeing, but is also monetising its service with "click to buy" tags that make offers based on commercials.
Mobile's "dip and sip" usage model means that for the first time, marketers can contact consumers wherever they are. Customers may not spend an hour poring over a car manufacturer's website on their smartphone before choosing between a Ford and a Volvo, but they might quickly glance at their phone and decide that now's a good time for a choccy bar. These fast-moving consumer goods (FMCGs) are impulse buys, satisfying an immediate need for minimal outlay. They're perfect fodder for social marketers, explains Alex Kozloff, head of mobile at the UK's Internet Advertising Bureau.
"It's an opportunity for marketers who do market FMCGs to have that influence right up to the point of purchase," she says. "You might want to find your nearest shop quickly and buy the product in ten minutes."
But what will prompt that action? One of the most obvious benefits of mobile social networking is location awareness. Mobile devices use GPS and Wi-Fi positioning to know where they are, leading to opportunities around check-ins. Foursquare pioneered this, but Facebook is quickly catching up. After nixing its "Places" feature, it came back with a "Nearby" setting in its mobile app, which shows places nearby, along with friends' recommendations. Twitter Places, launched in 2010, integrates with Foursquare and allows people to tag places in posts.
Location-based marketing enables companies to offer deals to attract visitors. Sites such as Foursquare, enable businesses to make a game of visiting by awarding people points for coming back, giving them discounts for a certain number of check-ins, for example.
Location-based marketing opportunities come in various forms. "A company might offer specific deals around an event like a festival," says Farhad Divecha, director of social media and mobile marketing consultancy AccuraCast. There are other location-based innovations, too, not directly associated with selling. Jimmy Choo organised a live scavenger hunt around London using Foursquare, for example. In-store sales leaped by a third.
Serving up coupons and offers via social media based on a person's location is one possibility for marketers. An advantage of mobile social networks is that the apps people use often provide far more information about them than you might find on a social network. This can be powerful when combined with location, says Divecha. Gay dating app Grindr gives local advertisers access to a far more highly targeted demographic than they might find through Facebook.
Location is far from the only way to target mobile social users. Most mobile devices are cameras, for example, which made it possible for Ubisoft to launch its Autodance campaign when marketing the Just Dance 3 video game. This allowed mobile users to film their friends dancing in unique places, automatically stitching the clips together in sync with music. More than a million and a half viewers uploaded videos to Facebook and Youtube. The game topped the multiplatform charts in Europe, the US, and Japan, and reached number 2 in the UK.
With more people than ever carrying crucial parts of their social lives in their pockets, marketers would do well to explore what can be done with a GPS, a 4G Internet connection, a camera, and a small screen. The mobile trend shows no sign of abating.